Periodically, I check out the Applications available for the iPhone. I've downloaded several, including Tweetie... which is my personal favorite Twitter Application for iPhone.. and thats because I have tried a few others.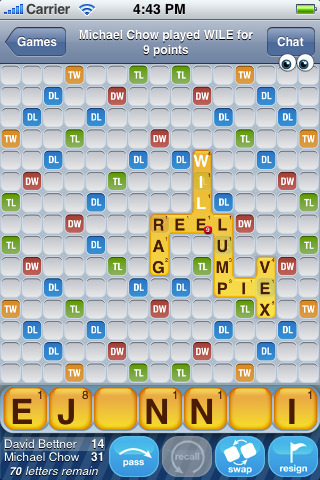 Recently I came across an application called "Words with Friends". Its basically SCRABBLE that you can play with your friends or random players online.
Don't worry, you keep your name and number a secret if you would like. After downloading it, you'll be asked to create a user name (which you can switch every day if you want to). Then choose who you want to play.. someone from your Contacts, someone from Twitter / Facebook, or some Random player online.
While playing, you can choose a word and then sign-out. Your phone will tell you when its your turn. You're welcome to talk with the other player through a game board. Again, no phone number or real name is displayed.
If you are a real Scrabble addict, you'll be happy to know that you can play several games at a time. I'll warn you though, its VERY addicting. I was not a scrabble player before, but I've been playing quite a bit over the past 4 days since I've downloaded it.
*********************************************************
Are you looking to purchase a Texas home? Perhaps you love your Texas home but would be interested in refinancing your Texas mortgage to a lower interest rate?
I'll help you get pre-approved for your Texas home loan and even suggest some very knowledgeable and professional Real Estate Agents in your area of choice. If you are available to talk, I am available to listen. Give me a call or visit my website for more details.
Do you want to know all of your mortgage options? Call me today and let's discuss them further.
Always available for your Texas Mortgage and Home Loan needs!
John R Cannata P#214.728.0449
NMLS # 322646
The views expressed on this site are mine alone and do not reflect the views of my employer.